Environmental Justice Element
What is environmental justice?
The US Environmental Protection Agency defines environmental justice as "The fair treatment and meaningful involvement of all people regardless of race, color, national origin, or income with respect to the development, implementation, and enforcement of environmental laws, regulations, and policies. Fair treatment means that no group of people should bear a disproportionate share of the negative environmental consequences resulting from industrial, governmental, and commercial operations or policies." This definition highlights two key concepts at the heart of environmental justice: (1) The need to promote social equity ("fair treatment") in policy making, and (2) The need to involve affected communities in the decisions that impact their lives.
Other government agencies and local communities may also maintain their own definitions of environmental justice that speak specifically to their own local conditions and the vision that they want to achieve.
All of these definitions respond to the fact that low-income residents, communities of color, indigenous peoples and tribal nations, and immigrant communities have disproportionately experienced environmental burdens and related health problems that result from various development types and planning policies. This inequity is the result of many factors, including intersecting structural inequalities, limited political and economic power in marginalized communities, the prioritization of business interests over public health, and development patterns that tend to concentrate pollution and environmental hazards in certain communities. Combined with a lack of economic resources and unjust policy making, these marginalized communities (referred to as "environmental justice communities") face significant barriers to their overall health, livelihood, and sustainability.
What is an ENVIRONMENTAL JUSTICE Element?
The Environmental Justice (EJ) Element is a legally required part of a General Plan, which is the overall planning document that sets the County's policies for planning, development, and conservation. Under Senate Bill 1000 (SB 1000) of 2016, jurisdictions like Imperial County that contain environmental justice communities that are disproportionately affected by environmental pollution and other hazards are required to develop and adopt an EJ Element upon the update of two or more General Plan elements. The goal of an EJ Element is to address the compounded social, economic, and health issues faced by environmental justice communities, to promote community engagement in the public decision-making process, and to identify objectives and policies that prioritize improvements and programs that address the needs of environmental justice communities.
What is the Purpose of the Imperial County EJ Element?
The Imperial County EJ Element will identify the environmental and social issues faced by environmental justice communities and establish goals, policies, and implementation programs to mend and improve these identified issues, while building community capacity. The EJ Element process will first identify environmental justice communities within the county, and then develop policies and programs to reduce health risks, promote civic engagement, and prioritize improvements that address the needs of these communities.
The EJ Element will also align with the six basic concepts adopted by the Board of Supervisors in support of the County's overall General Plan:
·         Quality of life
·         Safety for people and property
·         Wide selection of social and economic opportunities
·         Efficient use of natural, human, and financial resources
·         Clean air, water, and land
·         Quiet, beautiful communities and rural areas
Work Completed to Date and planned

In 2017, County staff began coordination with state and local agencies including the State Department of Toxic Substances Control, Imperial Task Force, and the Comite Civico del Valle (CCV) to strengthen efforts in attaining compliance with the latest State law and goals regarding environmental protection and SB 1000 requirements.
In 2017, the County took steps to promote sustainable, affordable housing by incorporating ADU language into the County's Land Use Ordinance. The County made additional changes to the Land Use Ordinance in 2019 regarding cannabis and industrial hemp uses, and in 2020 made additional changes to Divisions 4, 5, 8, 10, 12, 14, and 16 of the Land Use Ordinance.
From 2020 to 2023, the County updated the Housing Element and Seismic and Public Safety Element to be consistent with State law. These update processes included a review of disadvantaged unincorporated communities, evaluating potential housing sites in hazard prone areas, and a Climate Change Vulnerability Assessment that identified which populations are most vulnerable to climate change hazards.
In 2021, the County adopted the Multi-Jurisdictional Hazard Mitigation Plan (MHMP) as part of the Seismic and Public Safety Element. In 2022, the County updated Divisions 5, 8, 14, and 16 of the Land Use Ordinance pursuant to recent FEMA Floodplain Management Regulations.
On June 30, 2022, Governor Gavin Newsom signed into law Senate Bill (SB) 125, providing funding to develop a Lithium Valley Specific Plan and Programmatic Environmental Impact Report (PEIR), and to distribute grants to local community-based organizations to conduct engagement related to the Specific Plan and PEIR. The Specific Plan process includes a significant environmental justice component, including community outreach and development of an Environmental Justice Working Group. This process is already underway and will integrate with the EJ Element process.
As a first step in preparing the County's first EJ Element, the County has drafted a memo that identifies and provides background about environmental justice communities of concern in Imperial County.
The next steps in the EJ Element process will include review of the memo by community members, a comprehensive outreach strategy to connect with Community Based Organizations and community members throughout the unincorporated county, and the preparation of a EJ Element that provide a framework for the County to address environmental justice issues over the next 20 years through policies and implementation programs.
Community Engagement Opportunities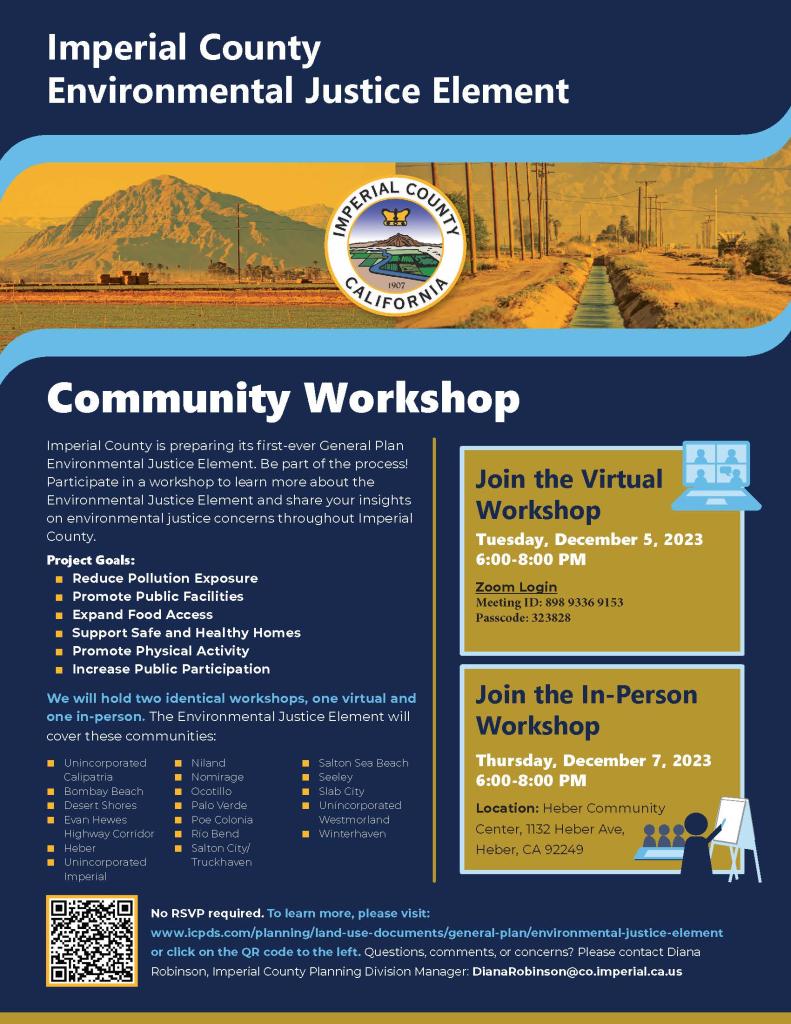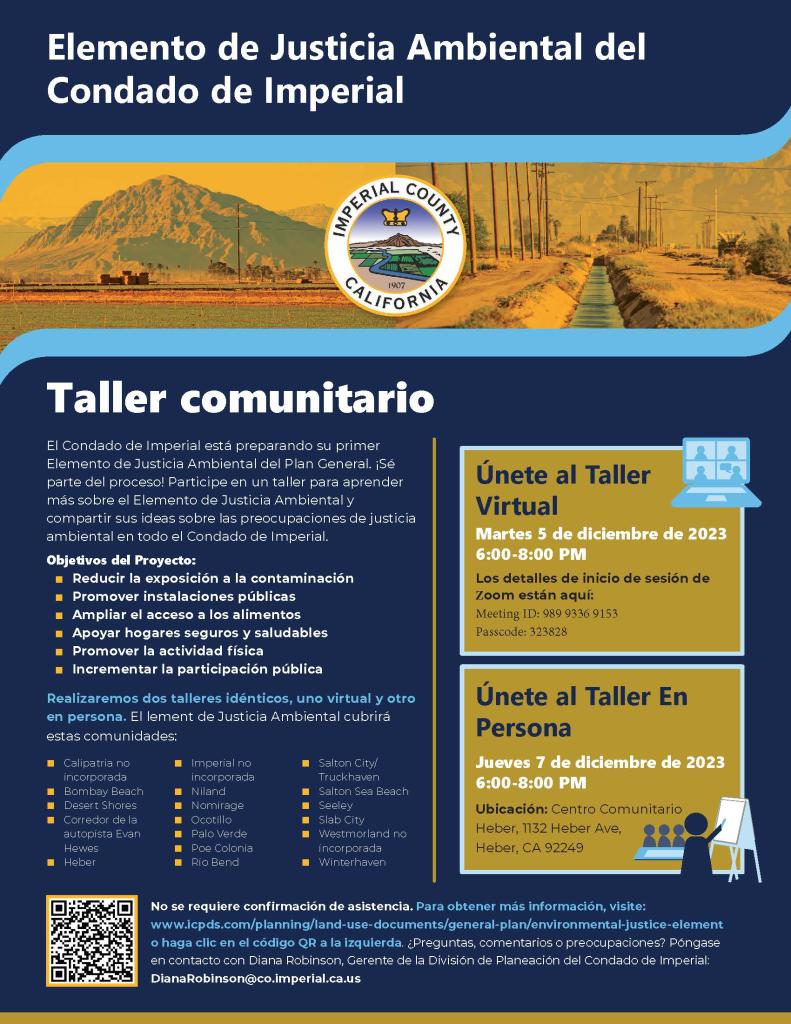 Work Products
Public Review Draft Defining Environmental Justice Communities
This draft document identifies environmental justice communities throughout the unincorporated areas of Imperial County. Per state law, these communities have been identified through a process that considers census tracts disproportionately burdened by pollution and/or containing high proportions of populations that are especially sensitive to pollution impacts. Sources for this information include CalEnviroScreen 4.0, Colonias identified by the U.S. Department of Housing and Urban Development, and communities identified as Disadvantaged Unincorporated Communities (DUCs) during the Housing Element update.
Identified Environmental Justice Communities in unincorporated Imperial County are shown on the map below. They are:
·         Bombay Beach
·         Unincorporated Calipatria
·         Desert Shores
·         Evan Hewes Highway Corridor
·         Heber
·         Unincorporated Imperial
·         Niland
·         Nomirage
·         Ocotillo
·         Palo Verde
·         Poe Colonia
·         Rio Bend
·         Salton City/Truckhaven
·         Salton Sea Beach
·         Seeley
·         Slab City
·         Unincorporated Westmorland
·         Winterhaven
The County will be accepting comments on this memo until December 15, 2023. Please sent your comments to Diana Robinson at: planninginfo@co.imperial.ca.us
Links to other future work products for the EJ Element will be provided as they are completed.